Christmas at Faith UMC
Christmas at Faith UMC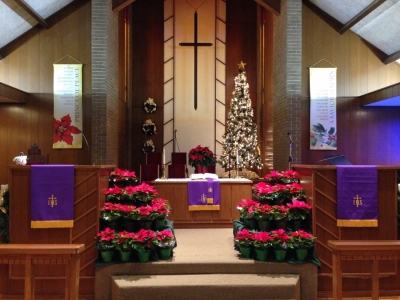 Christmas at Faith is always a special time. The Advent season is a time of hope, love, joy, and peace. The Chrismon tree is decorated and in place for the first Sunday of Advent. The lighting of the Advent Candle Wreath begins that Sunday also.
Members of the congregation have the opportunity to purchase poinsettias in honor or memory of loved ones. These help to decorate the chancel area. A candlelight worship service is held on Christmas Eve at 5:00pm. Faith UMC will host the event this year (2018). The Geyer Springs UMC will be joining us, as well as any of you who might be reading this information. You are always welcome at Faith and what better time to visit our church. Come and help us celebrate the arrival of the Christ Child.
| | | |
| --- | --- | --- |
| Pumpkins were decorated for the Christmas season at Faith UMC in 2017. About 20 pumpkins were painted and placed in the flower beds to greet folks as they attended services. The members had much fun with this project. Some pumpkins were decorated to resemble peppermint candy. Others shared the message of "Merry Christmas" or "Ho, Ho, Ho"! Decorative ribbon added final touches to the Christmas pumpkins. They lasted through the first week in January. Members of the congregation and visitors seemed to enjoy their walk into the sanctuary each week during the season. We have left this posted on our website (even though it was last year), just to share a decorating activity that you and your friends might enjoy. | | |
A few years ago Philander Smith Choir presented a Christmas Concert at Faith UMC, December 4. "Celebrate the Holidays" was a wonderful event for all attending. The Choir sang some old traditional hymns, as well as many of our favorite Christmas carols. Director Karliss Chapple did an outstanding job coordinating the concert. Those attending really enjoyed the performance.