Rev. David Hoffman, Senior Pastor
Rev. David Hoffman, Senior Pastor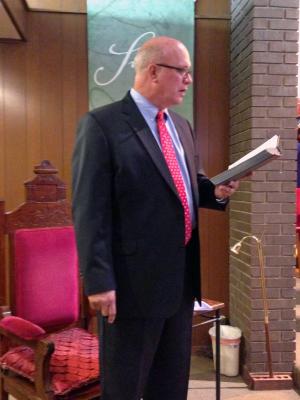 Rev. David Hoffman
Senior Pastor
David Hoffman was born in Pine Bluff and moved to south Louisiana at an early age. He earned a degree in Political Science from the University of Arkansas at Monticello and began a job in the Department of Correction where he was assigned to several units and had various duties. He left the Department in 1990, after receiving a law degree, returned to Monticello and practiced law for 16 years and served as the City Attorney in Monticello.

David began to have a call to ministry and pulled a little closer to church as he became a teacher in a Sunday School class, served in several church offices, and enjoyed being a part of the church family. He finally decided to leave his law office as of June, 2006.

Seminary was the next step and ordination was in 2012. While in seminary, Bro. David pastored the church in Keo, and following graduation, he served Wesley, in Conway, and Winfield, in Little Rock. Bro. David serves as Chancellor for the Central District and Associate Chancellor for the Conference.

Bro. David and Kim have 2 grown children, Kaitlin and Jordan, who is married to Gabby. The entire family enjoys grand-daughter, Emma.