Pentecost Sunday
Pentecost Sunday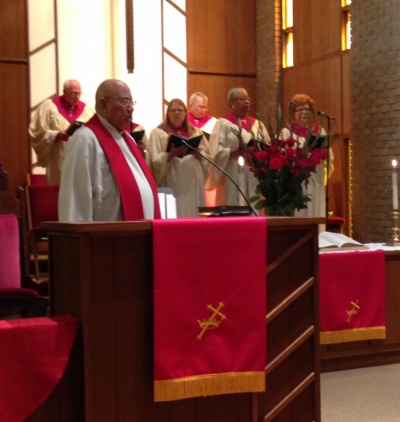 Celebrating Pentecost Sunday is quite a production at Faith. Of course, the abundance of "red" succeeded in waking up and revitalizing our service.

Many of our favorite songs were sung as we felt the spirit move as we celebrated the birthday of the Church. The June 4th, 2017, celebration of Pentecost at Faith United Methodist Church was very moving. Brother David Hoffman's sermon, "Fire and Water" reminded us of the Christian church and the beginning images of wind, water, earth, and fire. Following the service cake and punch was served in Fellowship Hall.

Faith's Choir and Interim Pastor Nathaniel Grady are pictured in this 2016 celebration of Pentecost.

Our Worship Services begin at 11am. Come early for coffee and donuts in Fellowship Hall. Sunday School begins at 9:45.

Because of COVID-19, Sunday Schools are not meeting. Worship Service is on Facebook at 10am.